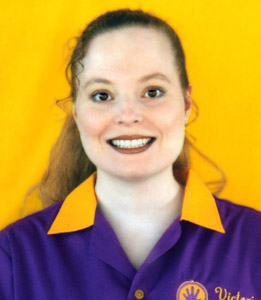 Victoria Johnson (born in June 23, 1981) and started performing puppet shows in her home state of Kentucky, and has since traveled the globe to pursue her puppetry career. She spent two years in London, where she received a post graduate degree in Advanced Theater Practice from the Central School of Speech and Drama, and represented the prestigious school at the annual International Theater School Festival in Bratislava. During "time off" from her studies, Victoria built and performed a 14 foot tall puppet for a production that played to sold out crowds at the Royal Albert Hall.
After returning to the States, Victoria went on to perform at the world renowned Center for Puppetry Arts in Atlanta, Georgia. She played numerous parts in the main stage puppet production of Peter Pan, including Tinkerbell, Tiger Lilly, Mrs. Darling and the Crocodile.
Over the years Victoria has studied puppetry with many acclaimed master puppeteers such as Muppeteer Kevin Clash (Elmo), former Muppeteer, Michael Earl, Mak Wilson (Jim Henson's Creature Shop), Karen Prell (Red Fraggle), Margo Rose (Creator of Howdy Doody) and Peter Schumann of Bread and Puppet Theater.
Victoria brings with her 15 years of live theater experience, a wide range of character voices, expert puppetry skills, and dedication to the art of live puppetry.
Performing Credits
Building Credits