See also the Two-Headed Monster from Sesame Street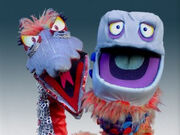 The Two-Headed Monster is one of the trash guards that Ricky Raccoon faces when he attempts to free Bandit from Rat Man's clutches in the Swazzle puppet Show, Ricky Raccoon and the Recycling Ray. One head is slow and dumb, and made from plastic. The the other is smart and crafty, and made from aluminum. Even thought they are joined at the hip literally, they bicker constantly.
Real trash was reused to make the puppet. The plastic monster is covered with plastic milk carton lids, and the aluminum monster is covered with flip tops from aluminum cans.
The puppet was designed and built by Patrick Johnson, and performed by Tim Sweeney.
Gallery
External Links