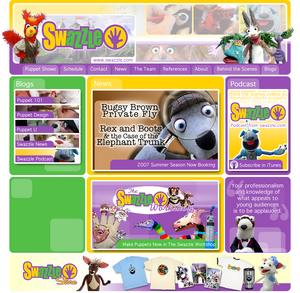 Swazzle.com is
Swazzle
's website. Visitors to the site can view Swazzle's performance schedule, learn about the puppet shows, and get exclusive behind the scenes information.
Swazzle.com features four blogs written by Swazzle's talented team of puppeteers and puppet builders: Puppet 101, Puppet Design, Puppet U, and Swazzle News. Each blog focuses on a specific aspect of puppetry, and all are updated on a regular basis.
Swazzle.com is also the home of the Swazzle Podcast. This entertaining and insightful video podcast features hilarious puppet videos, like the popular web series Frosty's 12 Days of Christmas Podcast, educational videos, and more. Visitors can subscribe to the podcast and have it delivered right to their computers through the iTunes Music Store.
Visitors to Swazzle.com will also find, The Swazzle Workshop, an entertaining and educational web series all about puppet building. Each month in The Swazzle Workshop, hosts Tiger and Mousedeer demonstrate how to make fun and simple puppets at home.
Swazzle.com is also the home of the Swazzle Store, where visitors can purchase unique merchandise created by Swazzle's design team. Available products include mugs, t-shirts, magnets, and more.
External Links