Jurassic World: Dominion Dominates Fandom Wikis - The Loop
Play Sound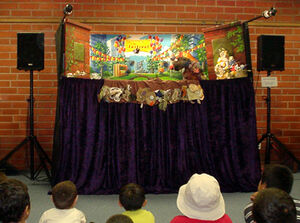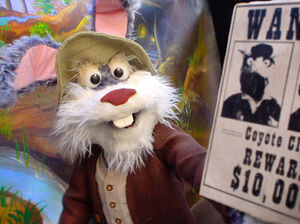 Swazzle is a puppet company dedicated to the art of live puppetry. They present lighthearted puppet shows, that emphasize positive messages for young people. Their puppet shows are completely self contained, and they require only an electrical outlet and an audience to put on a show. Swazzle's custom made portable puppet stage measures seven feet across and four feet deep, and has it's own lighting system. They travel with a sound system, complete with amp, mixer, speakers, speaker stands and wireless microphones.
Each puppet show includes a special behind the scenes presentation. The front curtain of the puppet stage is pulled back so the audience can see what it looks like back stage, and how the puppets work. Because Swazzle puppet shows are never pre-recored, the puppeteers rehearse and memorize the lines just like a stage play. Live performances lend a spontaneity and freshness impossible with a pre-recorded puppet show, and it guarantees each performance is a unique theatrical experience.
Swazzle's team of talented puppeteers have years of live puppetry experience. They have trained professionally and performed puppet shows at venues nationally and internationally. Outside of Swazzle they have worked with leading puppet and entertainment companies including The Jim Henson Company, Baby Einstein, Leap Frog, and The Center for Puppetry Arts.
Each Swazzle puppet show is created in house. Their talented team of puppeteers write the shows, design and build the puppets, and design and paint the sets. Swazzle has many puppet shows in its repertoire, and new shows are added on a regular basis.
Swazzle is inspiring and educating the next generation of puppeteers around the world with it's innovative web site Swazzle.com, puppeteer blogs, and the online web series The Swazzle Workshop. Swazzle also offers a line of unique products designed by their creative team, available through the Swazzle Store.
Swazzle Puppeteers
Swazzle Designers and Builders
Puppet Projects
External Links
Gallery