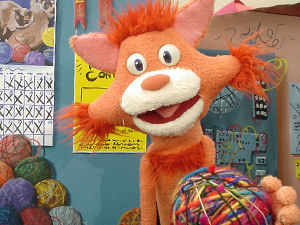 Ratchet is a character from the Swazzle puppet show B.A.R.K. the Robot Dog. He is very high strung and doesn't always get along with his house mate, a pug named Rivet. Ratchet works tirelessly on his yarn with the help of his hamster friend Tinker.
He hopes to one day win the best yarn ball contest. Ratchet was designed by Patrick Johnson who also performs him, and was built by Sean Johnson. The material that covers Ratchet is white terry cloth, dyed orange for the body and head and left white for the muzzle.
Trivia
Ratchet's name was originally going to be Muffin but the character's name was changed prior to the the opening of the show. His name was changed to fit the idea that every character's name should be something that can be found in a workshop.