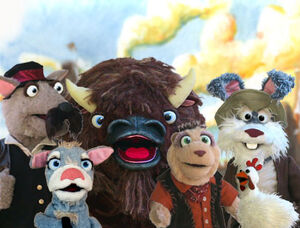 Prairie Dog Pete is a production of Swazzle.
Plot
Prairie Dog Pete is a down on his luck gold miner who has no food and no money. He decides to pack his bags and go back home, until he meets Jack Rabbit who gives him some magic animals that have special powers.
Prairie Dog Pete and the Magic Buffalo runs 45 minutes and includes a behind the scenes presentation. Which means the curtain is pulled back and you can see what the puppets look like from that angle.
Prairie Dog Pete was created for the 2004 summer tour season. It was officially Swazzle's first puppet show.
Characters
External Links