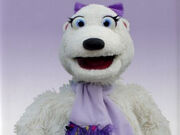 Polly Polar Bear is a character from the Swazzle puppet show Polly Polar Bear and the Prince of the Sea. She lives in the Canadian Arctic in a small cottage with her friend Reggie the Reindeer. Polly's favorite hobby is fishing, though she sometimes gets annoyed by Reggie's antics.
She was designed by Patrick Johnson who occasionally performs her, built by Sean Johnson and mainly performed by Anita Coulter.
Polly made an appearance in Frosty's 12 Days of Christmas Podcast as Dirk, the head of Santa's security detail. In this appearance, the puppet was performed by Kevin Carlson.