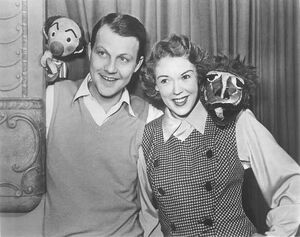 Kukla, Fran, and Ollie was an American television series that starred puppeteer Burr Tillstrom as the roles of Kukla and Oliver J. "Ollie " Dragon (among others) and radio comedienne Fran Allison as herself. The show ran altogether from 1947 to 1957 on on the channels WBKB (as the hour-long "Junior Jamboree," 1947-48), WNBQ (1948-49), NBC (1948-54 [15 min., 1951-52 ]), and ABC (15 minutes, 1954-57). The show was entirely ad-libbed. The series was created just for children but soon adored by adults, as well.
Some well-known fans of the show included Orson Welles, John Steinbeck, Tallulah Bankhead, Ben Grauer, Milton Caniff, and Adlai Stevenson. It also won an Emmy and a Peabody Award.
A 1950 short story by Paul Gallico called "The Man Who Hated People" was loosely based on the series and inspired the film Lili (Tillstrom was even apporached to create puppets for the film but turn down the offer.)

After the series ended the trio made guest appearances on various TV series and on stage. From 1967 to 1979, the puppet duo and their human friend became popular with a new generation of kids when they hosted The CBS Children's Film Festival, an anthology series showcasing family films from around the world. Two later series were made by NET (later PBS) in 1970 (which won an Emmy) and Martin Tahse produced 13 additional episodes in 1975.
Links