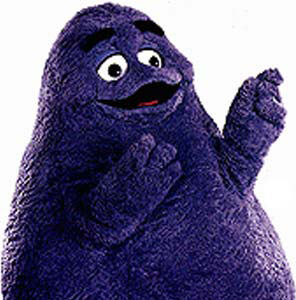 Grimace was in many McDonalds commercials thru the early 1970s to 2007.
Grimace was first introduced in the early days of the McDonaldland commercials as one of the villians. He was originally called "The Evil Grimace" and resembled a huge blobby purple gumdrop with four arms. As the

Hamburglar

was obsessed with Hamburgers, and

Captain Crook

was obsessed with Filet-O-Fish sandwiches, The Evil Grimace's obsession was with Shakes, as he was often running off with a whole slew of them packed in his four arms. He was extrememely dumb and

Ronald McDonald

always managed to fool him.
Eventually, the character was changed. The "Evil" was removed from his name, and His arms went from four to two. No longer a villan, he was recast as Ronald's best buddy, a clumsy, not too bright oversized kid with a heart of gold. He retained this persona thruout the rest of his tenure in the McDonalds commercials.
During the Shamrock Shake promotions around St. Patrick's day, McDonald's introduced

Uncle O'Grimacy

,Grimace's uncle from Ireland who spoke with an Irish brogue and was colored green.
Triva
Grimace was one of few Mcdonalds Characters to still be on commercials after they got sued for using copyrighted story lines and Characters of H.R. Pufnstuf.
Grimace was voiced by

Lennie Weinrib

, who, ironically co-wrote the scripts and voiced many of the characters in

H.R.Pufnstuf

, produced by Sid and Marty Krofft, who sued McDonalds for copyright infringement.