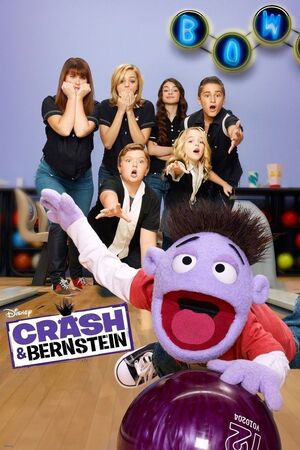 Crash & Bernstein is a live-action television comedy with puppetry which premiered on October 8, 2012 on Disney XD. Created by Eric Friedman, the series centers around a teenaged son, among three sisters, who wishes to have a brother. His wishes come true when a puppet brother he creates named Crash comes to life. Production for the series began in May 2012. On November 9, 2012, Disney XD extended the series' first season to 26 episodes. After the last episode aired on August 11, 2014, the series was cancelled, thus ending its two-year run.
Sesame Street and Muppets performer Tim Lagasse starred as the voice and puppeteer for Crash.
Plot
For his birthday, Wyatt Bernstein is taken to a Build-A-Bestie store where he creates a puppet that he names Crash, who comes to life as the brother he always wanted. Crash and Wyatt must deal with three sisters of various ages at home, as the two might have their differences like other brothers do, but they still have each other's back.
Characters
Main characters
Crash (performed by Tim Lagasse) is a puppet-like character that was created at the time of Wyatt's visit to Build-A-Bestie. Lagasse is assisted in performing Crash by Paul McGinnis, who operates the arms, legs, and props of Crash.
Wyatt Bernstein (Cole Jensen) is a 12-year-old boy, among three sisters, who wishes to have a brother. This results in Wyatt building Crash at Build-A-Bestie.
Cleo Bernstein (Landry Bender) is one of Wyatt's sisters who shares a room with him. She is a money-making schemer who makes products for her "company" called CLEO. She dreams of becoming a CEO one day.
Amanda Bernstein (Oana Gregory) is Wyatt's older sister who often gets annoyed at Crash's shenanigans and how Pesto has a crush on her. She is sometimes distracted by her beauty.
Pesto (Aaron Landon) is Wyatt's best friend who has a crush on Amanda. Pesto's parents own Iconic Arcade which is where he works. During the beginning of the show he used to hate Crash, but now seem to be somewhat of friends.
Recurring characters
Mel Bernstein (Mary Birdsong) is the mother of Wyatt, Cleo, Amanda, and Jasmine.
Jasmine Bernstein (McKenna Grace) is Wyatt's youngest sister, who owns a doll named Princess Glitter that Crash is in love with.
Scottie (Curtis Harris) is one of Wyatt's friends at school.
Mr. Poulos (Danny Woodburn) is the landlord of the Bernstein's apartment building. Mr. Poulos carries around a swear jar which he swears into so that nobody can hear his profanity.