Bunnytown is a children's television show that airs on the Disney Channel's Playhouse Disney. It was created by David Rudman, Todd Hannert, and Adam Rudman of Spiffy Pictures. The show revolves around a town of Bunnies, Bunnytown's debut was on November 3, 2007 in the United Kingdom, and in the United States a week later. The show is produced at London's Elstree Studios with many of the Peopletown segments are filmed near Clarence Park and Verulamium Park in St Albans, England.
Music is a key part of the show, varying from disco to country music. The Bunnies play different roles such as a superhero, pirates, rock stars, and just plain rabbits. In an interview, creator David Rudman explained his idea of the show, "I drew this really funny looking bunny with a huge overbite and really long ears. I think I made it pink, and I thought it would be funny to have a big group of these things that looked the same."[1]
Bunnytown uses rod puppets, each eight inches high, controlled by rods from below and marionette strings above. A little trigger on the rod is used to control their mouths. Most of the bunnies call each other by simply bunnies, though occasionally one will be mentioned or announced on the show. "Standing beneath the wooden platform that displays the elaborate Bunnytown metropolis and farmland, a puppeteer manipulates a bunny on the end of a long pole with a few simple controls that move the creature's mouth and head." [2]
"It has a fun irreverence to it and I guess we best describe the show as a little variety show for preschoolers. It is really driven by music and comedy, One hopes that the underlying theme is to educate, but it's not rubber stamped in a way that a lot of shows are. I think the first job is to entertain." [3]
Credits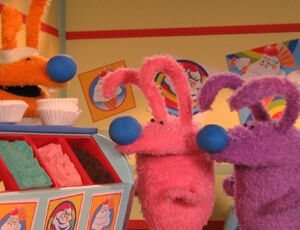 Producers: David Rudman, Brian Henson, Bill Barretta
Writers: Emily Rudman,

Alice Dinnean Vernon

Puppeteers: Bill Barretta,

Terry Angus

,

Lee Armstrong

, Anthony Asbury, Larry Basgall, Julianne Buescher, Tyler Bunch, Kevin Carlson,

Frankie Cordero

, Stephanie D'Abruzzo, Alice Dinnean Vernon, Myra Fried, James Godwin,

Tim Gosley

, Brian Henson, Eric Jacobson, John Kennedy, Jim Kroupa, Tim Lagasse,

Bruce Lanoil

,

Patricia Leeper

, Peter Linz,

Drew Massey

,

Frank Meschkuleit

, Kathryn Mullen,

John Pattison

, Michael Petersen,

Gord Robertson

, David Rudman, Mike Schwabe,

Joe Selph

,

Sandra Shamas

,

Michalan Sisti

,

Ron Stephanuek

,

Bob Stutt

,

Nikki Tilroe

, Allan Trautman,

Karen Valleau

,

Tom Vandenberg

,

Cheryl Wagner

, Victor Yerrid
Music & Lyrics: Todd Hannert
Music Composition & Arranging:

Terry Fryer

Puppet Shop:

Gene Barretta

, Larry Basgall,

Jane Gootnick

,

Scott Johnson

,

Marian Keating

, Rollie Krewson, Mike Schwabe, Polly Smith, Jean-Guy White,

Julie Zobel
Trivia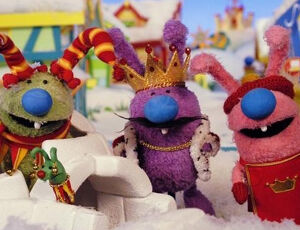 The puppet shop is located in a small room behind the set.
See also
References
External links