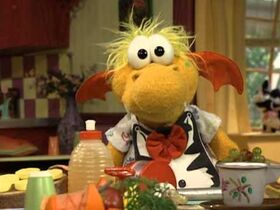 PERFORMER Liz MacRae Voice
 

Lucie Beauvais

Puppetry
DEBUT 1995
Bo is the tetartagonist of Wimzie's House. He is Rousso and Graziella's 1 and a half-year-old son, Wimzie's little brother, and Yaya's grandson.
Appearance
Bo is completely dragon, mostly resembling his dad, and not a hybrid like Wimzie. He has yellow-orange skin, blonde hair, and red antlers on his head. He wears a white short-sleeved shirt and a diaper.
Personality
Bo is innocent, cute, and spunky, getting most of Yaya's attention because of him still being a baby, and the others also keep tabs on him. He keeps learning how to talk, so he just talks to others in his own gibberish.