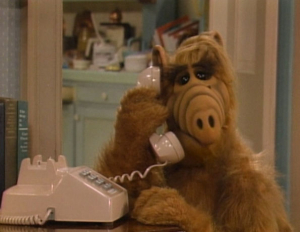 "Ha! I killed me!"
―ALF
Gordon "ALF" Shumway (an acronym for alien life form) is a Melmacian alien who was the central character for the ALF Sitcom, ALF Talk Show, Project ALF, and his own cartoon. His original appearance was in the 1986 - 1990 sitcom, when he landed in the Tanners garage in the pilot episode "ALF." Throughout the series, ALF lived with Willie, Kate, Lynn, and Brian Tanner. ALF has been always voiced by Paul Fusco, who also created the series.
A Melmacian's favorite food is a cat, but ALF refrains from this because of one of the rules made by Willie Tanner.
Appearance
He appears to be an obese, brown furred Melmacian.
Link